Coloring these days is not only for the young, but for the young at heart. Not only children draw crayons and colored pencils, but also teenagers and adults.
There is a good reason. Science has shown that coloring can do wonders for your mental health.
Health benefits of coloring
Coloring improves your motor skills and vision and helps you sleep and focus better. Moreover, it reduces stress and anxiety.
"Coloring has the ability to relax the fear center in your brain, the amygdala. It stimulates the same state of meditation by reducing the thoughts of a tense mind. This generates alertness and calmness, allowing your mind to get some rest after a long day at work." (Source: Beaumont Health )
Coloring is also fun. This is why it's no wonder people search the internet for coloring pages that speak to them.
Benefits of selling coloring pages on Etsy
This created a new market for artists and entrepreneur Etsy.
Selling coloring pages on Etsy has become an easy way for artists to reach new audiences while creating a new revenue stream. Artists have figured out how to turn their artwork into coloring pages that people can purchase.
In some cases, they have also created entire coloring books of their artwork.
Whether you're an artist looking to reach a larger audience or simply looking for a side hustle that speaks to you, selling coloring pages on Etsy may be your answer.
What you need to know about selling coloring pages on Etsy
I'm going to assume you already have an artistic design in mind. Whether it's something you've drawn yourself or digital art you've created, you now have coloring pages to sell.
But then what?
Printables vs Physical coloring pages
First, ask yourself if you will sell physical coloring pages or print materials. Physical coloring pages mean that you print the pages yourself and ship them to your buyers. Printables means that you will sell a downloadable file.
Advantages and disadvantages of physical coloring pages
The benefit of selling a physical coloring page is that you are in control of your artwork. Nobody has a digital file of your work.
The downside is that you have to fulfill orders. This means that when you make a sale, you have to print, package, and ship the pages.
This can be easy, and you can get help with fulfilling orders from a third party, but that's just one thing you add to your plate each day.
Advantages and disadvantages of printers
For printables, it's quite the opposite.
The benefit is that you don't have to fill out orders. Etsy does it for you. You upload your art file when you insert the coloring page. Once you make a purchase, Etsy gives the buyer access to the file. You will never have to fulfill any order, although you may have to answer questions from the buyer.
The downside now is that someone has a digital file of your work, and they are free to do whatever they like with it. You may write for personal use only on artwork, but you can never guarantee that the buyer will follow this requirement.
The customer may also have trouble printing on their home printer and may send you questions. You may not know their printer settings and it can be an extra burden.
Which is better, printable or physical coloring pages?
Which is better?
In most cases, printables will be better because you have then created a more passive form of income. The printables can be listed and then sold without much effort from you on the backend.
Yes, the customer can message you but that is the only work you can do after the sale. With a physical product, you worry about shipping, printing, and inventory.
If you're not sure how to get started in the market for printables on Etsy, check out Millennial Boss' post on getting started selling printables.
How to create a coloring page for a coloring book
We use Adobe Illustrator here at Millennial Boss to create our coloring pages.
First, we buy clip art for coloring pages from other sites and then arrange them on a letter size page with text.
We do this approach because we are not artists and we cannot draw the artwork ourselves.
For some of you who have an iPad and the Procreate app, you may be able to use the Apple Pencil to draw your artwork.
If you prefer, you can buy all the clip art you'll use for your coloring page from a website and then arrange them as you want for your coloring book.
Most people don't realize that you can buy coloring clip art for commercial use, so definitely check it out.
You can also use Canva which we love here to create the actual coloring page and it's free software.
List your Etsy coloring pages
Now that you've created your artwork and decided whether to sell a printable or an actual coloring page, you're ready to list your item on Etsy.
You will need to create a store. That includes choosing a name for your store. Next, you will need to list your item with photos and details. For full details on how to sell items on Etsy, check out this previous post here.
When listing your coloring pages, you'll want to pay close attention to the tags and title. These are the words and phrases Etsy will check when shoppers initiate a search query. In other words, these words will direct shoppers to your coloring pages.
If you need tips on how to improve your SEO, read this previous post here.
How to price Etsy for printing
You also want to make sure your coloring pages are priced so that they are more likely to sell out. Etsy understands that pricing is important, so he wrote an entire article examining the art of pricing. You can find it here.
While this price guide is useful for the coloring pages you actually sell and send to customers, it's not great for printers. Printables are a different beast.
The price of a printable printer needs to take into account the time you spent creating the printable item, but you also need to remember that you're asking people to print the item themselves. Printers usually have a lower price point than the physical item.
When pricing your printables, consider the fees similar stores charge for their coloring pages. If you charge more than your competitors, you will lose your business.
Prices that are too high will always be worse than prices that are too low. Remember, you won't pay for your efforts by selling a printable one. You will start reaping rewards after selling several printers.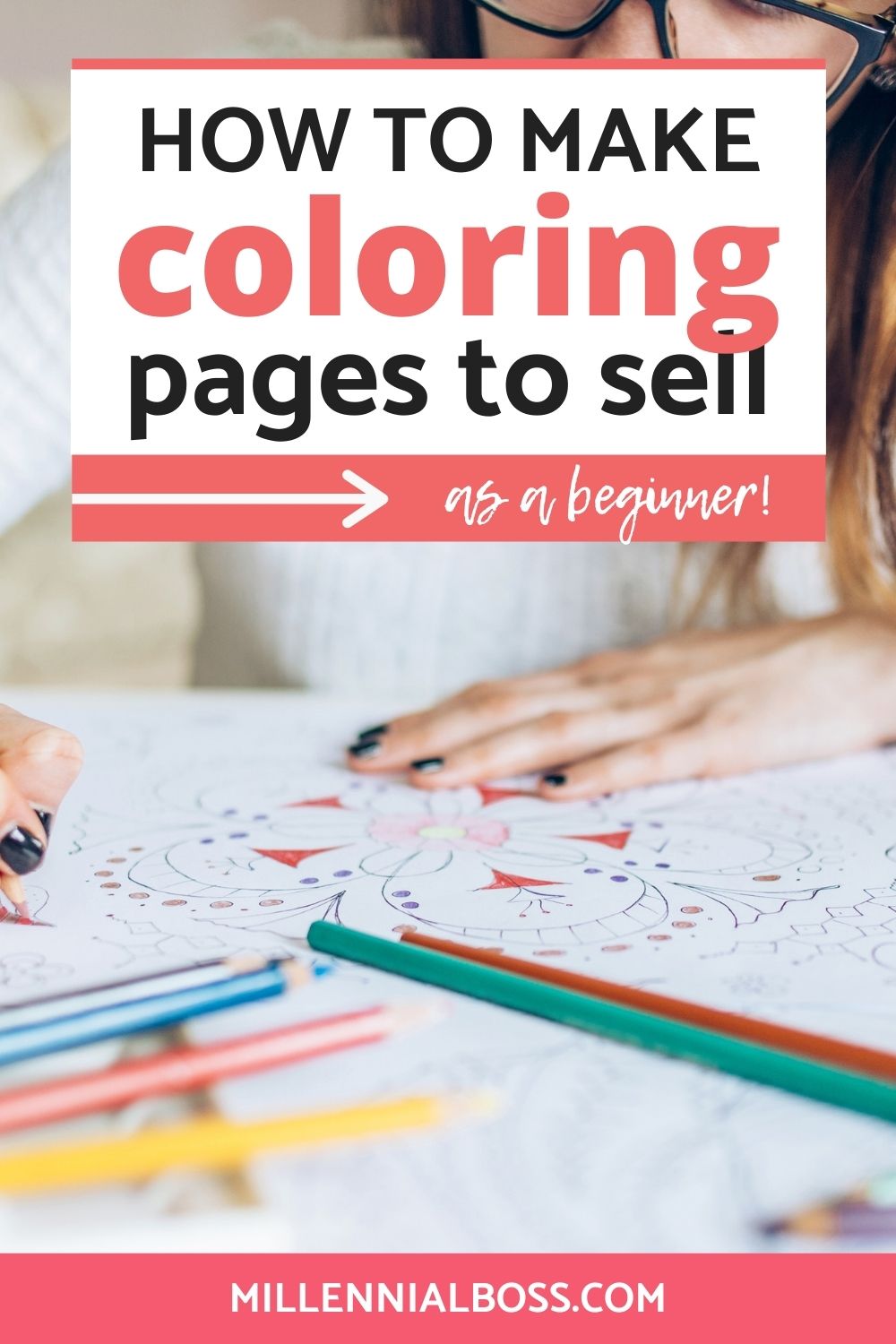 How to market Etsy for print
The next step is to market your printable coloring pages. Like I said before, the right search engines on Etsy will be your first step. You want to make sure that people searching in the market can find your coloring pages.
You can also create pins on Pinterest, market your coloring pages on Facebook, and more.
Lately, people are even making videos of themselves coloring on Tik Tok and Instagram reels and they're going viral!
The process of creating, listing, and marketing a printable Etsy can be extensive, which is why there are courses to help you. If you are planning to create printable materials for the long term, you should take a course on printable materials.
The course linked above has a tutorial on creating coloring pages with Adobe Illustrator that is included for free in the course.
What printable coloring pages should I sell on Etsy?
Once you have your store set up, you can start diversifying your inventory. If you are not sure what to create, you can find some of the most searched coloring pages below.
Note that I left out the cartoon characters because they are trademarked and copyrighted. I'm talking about Paw Patrol, SpongeBob SquarePants, Marvel Superheroes, DC Comics, etc.
However, there are plenty of other categories to choose from. Some of the most searched for coloring pages include:
Dinosaur coloring pages.
owl coloring pages
unicorn coloring pages (You can find some great examples in this previous post here.);
Personal coloring books.
Coloring books for teens.
Coloring books for adults.
giant coloring pages
Animals coloring book.
mermaid coloring pages
Solar system coloring pages.
You found the idea.
See what's popular on Pinterest and other places for clip art and use it to inspire your own coloring page book.
Also specify who the coloring page is when making your design choices.
Adults will want more complex designs and possibly more text. Kids will want to color the shapes in their favorite characters easier.
How to make a digital coloring book
If you have several coloring pages, you may decide to group them together into a book. This is a great idea!
Creating a digital coloring book gives you the opportunity to sell more of your artwork at a higher price.
The easiest way to create a digital coloring book is to take all your artwork in PDF format and combine them into one PDF file.
PCMag has instructions on doing this, regardless of whether you're using a PC or a Mac.
You can also create a multipage PDF document in Canva and export it as a PDF for printing.
seasonal printers
As you become more skilled at creating printable coloring pages, you will begin to expand your inventory.
That's when seasonal printers come into play. Seasonal printers add a whole new dimension to your Etsy store and can help you significantly increase your revenue.
Is there an upcoming holiday where you can create a coloring book for it? Try that first.
Related Posts:
How much money can you sell on Etsy?
How to boost your Etsy ratings

Latest posts by Erica Town
(show all)